Bekijk onze
nieuwste items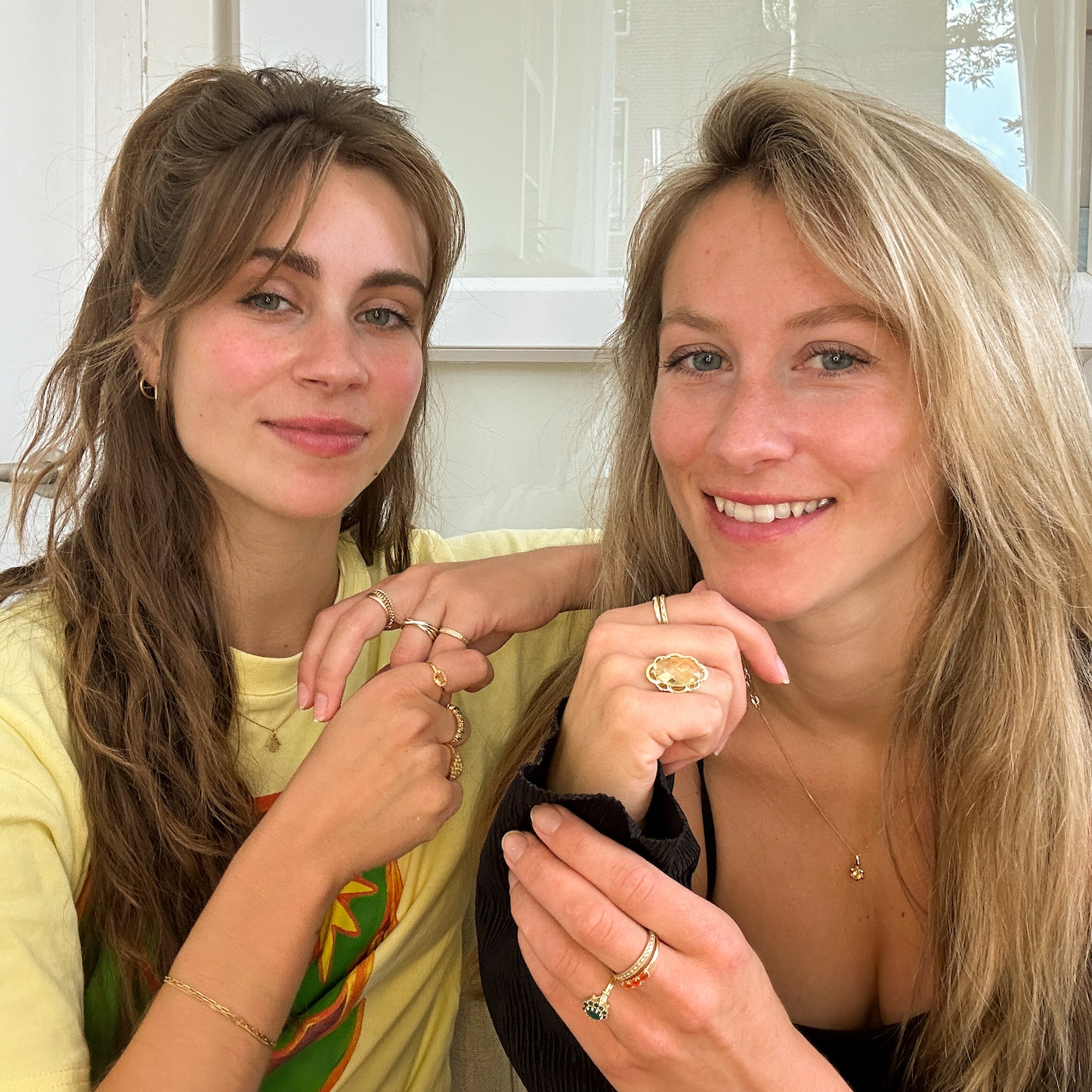 About us
Your jewelry is our mission
Are vintage jewelry above your budget? But do you want beautiful jewelry in vintage style with real gemstones that also remain beautiful for a long time? We know all about it..
What customers say about us...
4.63 op basis van 610 reviews
Prachtige Sieraadkeuze!
Dit juweel is absoluut geweldig. Ik ben er heel erg blij mee! Het heeft mijn verwachtingen overtroffen. Ik had een zeer positieve ervaring met het dragen van deze ring.
Wendy
Vintage Luna Citrine ring
Prachtige ring
Niet van echt te onderscheiden!
Topkwaliteit Sieraad
Ik heb deze ring op meerdere sites gezien, maar blij dat ik hem bij Josephina heb gekocht. Hij blijft prachtig en de prijs-kwaliteit verhouding is uitstekend. Op andere sites was deze wel 50 euro voor gold plated! Een echte aanwinst!
Tevreden
Ik ben onder de indruk van deze ring. Na lang zoeken, vond ik eindelijk wat ik wilde. De goede prijs maakt het nog aantrekkelijker. De levering was snel, wat bijdraagt aan een goede koopervaring. Ik ben blij en krijg veel complimenten.
Nanette
Vintage Onyx Flower ring
Mooie ring en goede service
Goede duidelijke website, eenvoudige bestelprocedure, snelle verzending van mooie ring, zorgvuldig verpakt. Heel betrouwbaar! Pluim!
Sophie
Vintage Onyx Flower ring silver
Mooie ring
De steen heeft een mooie paarse kleur.
Monique
Steffy Amethyst ring
Poesje
Deze ring vind ik prachtig ik ben er heel blij mee alleen jammer dat jullie geen of weinig maat 20 hebben ik erg weinig keuze heb hopelijk veranderd dit nog een keer groetjes Riet
Riet van Thiel
Vic Carneool Ring
Tevreden
Granaathanger gekocht voor mijn moeder. Was snel geleverd, prima verpakt. Ze is er heel blij mee!
Carla
Vintage Granaat Hanger | 14K Goud
Prachtig en precies goed!
Absoluut geweldig! Mooi, precies wat ik zocht. De grootte is gewoon perfect en het subtiele ontwerp geeft het een mooie touch. Zeer onder de indruk van dit product.
Rianne
Classic Smoky Hanger
Ring!!
Mooi ringetje. Iets kleinere steen dan verwacht maar is verder geen probleem. Heel blij mee.
Ratna.
Vintage Green Onyx Flower ring
Mooi en snel geleverd
Prachtig sierraad, heel cute! Ik heb het cadeau gedaan en de ontvanger was enorm blij verrast. Of de kwaliteit goed is kan ik niet beoordelen, dat zou na verloop van tijd moeten blijken en hoe de ontvanger ermee om is gegaan... Er zat wel een andere ketting bij dan afgebeeld op de foto om de hals. Verzending was super snel!
Nienke
Maansteen Ketting Bloem | Gold Plated
Super tevreden
Prachtige ring en super vriendelijke service.
Betoverend, maar te klein
Ondanks dat de ring prachtig was gepresenteerd in de foto's, bleek hij helaas te klein voor mijn hand. Het model in de foto had duidelijk slankere vingers. Een beetje teleurstellend, omdat het er op de foto's zo mooi uitzag. Ik heb de ring dan ook teruggestuurd.
Marissa
Ginny Smoky Quartz Ring
Geweldige Aankoop
De ring is al even charmant als de dames die hem verkopen. Prachtig ontwerp met de Luna Moonstone! Zeer tevreden met mijn aankoop. Vrolijk en gastvrij personeel. Bedankt!
Kristina
Vintage Luna Moonstone ring
Goeie service
Na eerst de verkeerde maat te hebben gekocht, was het snel en eenvoudig te retourneren. Daarna een mooier ring besteld, ben tevreden.
Uitstekende Oorbel Keuze
Ik heb niets dan lof voor deze oorbellen. Ze zijn mooi, stijlvol en passen bij vrijwel alles. Ik ben heel blij dat ik ze gekocht heb. Een echte aanrader!
M. Georgiew
Hailey Pavé Hoops
Prachtig en Stijlvol
Zo blij met mijn aankoop! Het design is ongeëvenaard. Ik hoop dat ze hetzelfde model met verschillende kleur stenen introduceren. Mijn ervaring is tot nu toe fantastisch!
Perfect!
Ik ben absoluut blij met deze ring. De kwaliteit is ongelofelijk, voelt duurzaam en zwaar. Het paste perfect, als op maat gemaakt. Een echte aanrader voor iedereen!
Fenne
Dolly Black Onyx Ring
Geweldig!
Mijn zoveelste ring al van josephina en ben echt fan! Deze gaat echt met alles mee chique en elegant. Kan niet wachten tot Josephina mij sponsort🫣❤️
R.K
Vintage Onyx Flower ring
Zeer tevreden
Mooie ring. Goede service.
Martine
Vintage Green Onyx Flower ring
De beste investering voor nu en later
14 Karaat Gouden Sieraden
Josephina Jewelry: De Sieraden Webshop
Betaalbare sieraden kopen online? Bekijk dan de sieraden collectie van Josephina Jewelry. Wij zijn dé sieraden webshop met edelstenen! Wij ontwerpen onze sieraden in Amsterdam en kiezen bij ieder ontwerp zorgvuldig bijpassende edelstenen. In onze sieraden collectie vind je edelsteen ringen, kettingen en oorbellen met edelstenen. Vertel jouw verhaal met een edelsteen sieraad.
Betaalbare Sieraden Webshop
Ben je op zoek naar betaalbare sieraden voor scherpe prijzen dan ben je bij Josephina Jewelry aan het juiste adres. Josephina Jewelry is een betaalbare sieraden webshop. Wij zijn gepassioneerd voor het aanbieden van hoge kwaliteit sieraden tegen betaalbare kwaliteit. In onze sieradenwebshop vind je allerlei soorten edelsteen sieraden. Zo begonnen we ooit met een ringenwebshop maar zijn inmiddels uitgegroeid naar een sieradenwebshop met ringen, oorbellen en kettingen met edelstenen. Het is onze missie om onze klanten te laten stralen zonder dat ze hun budget hoeven te overschrijden. Onze betaalbare sieraden zijn vriendelijk geprijsd en daardoor toegankelijk voor iedereen.
Onze sieraden service
Al onze sieraden worden zo duurzaam mogelijk verpakt. Daarbij gebruiken we recyclebare materialen en we hergebruiken materialen die we van onze leveranciers krijgen. Onze sieraden worden gemaakt van duurzame materialen zoals gold plated brass en 14 karaat goud. Deze materialen blijven lang mooi en onze leveranciers kopen gerecycled goud als basis voor onze producten. Op de pagina over ons kun je meer informatie vinden over onze waarden. Ben je niet tevreden over je aankoop? Bij ons heb je altijd 14 dagen bedenktijd.
FAQ:
1. Waar komen de sieraden van Josephina Jewelry vandaan?
De sieraden van Josephina Jewelry worden ontworpen in Amsterdam. Ze worden vervolgens duurzaam geproduceerd in India. Op de pagina over ons lees je meer over het verhaal achter Josephina Jewelry.
2. Waar vind ik goedkope sieraden?
Bij Josephina Jewelry vind je betaalbare sieraden van hoge kwaliteit. Wij vinden dat mooie sieraden voor iedereen toegankelijk moeten zijn. Je vindt bij ons betaalbare gold plated sieraden maar ook luxe sieraden van 14 karaat goud.
3. Wat is een goed sieradenmerk?
Edelsteen sieraden shop je bij Josephina Jewelry. Wij verkopen een grote collectie trendy sieraden met edelstenen. Je vindt bij ons edelsteen ringen, edelsteen kettingen en edelsteen oorbellen. Wij bieden hoge kwaliteit voor scherpe prijzen.