What does my zodiac sign mean?
Are you looking for the perfect gift? Look no further. A zodiac sign jewelry is super easy and fun to give! You choose the zodiac sign of the month in which that person's birthday is and you're done in no time! It does feel like something personal to get a zodiac sign jewelry.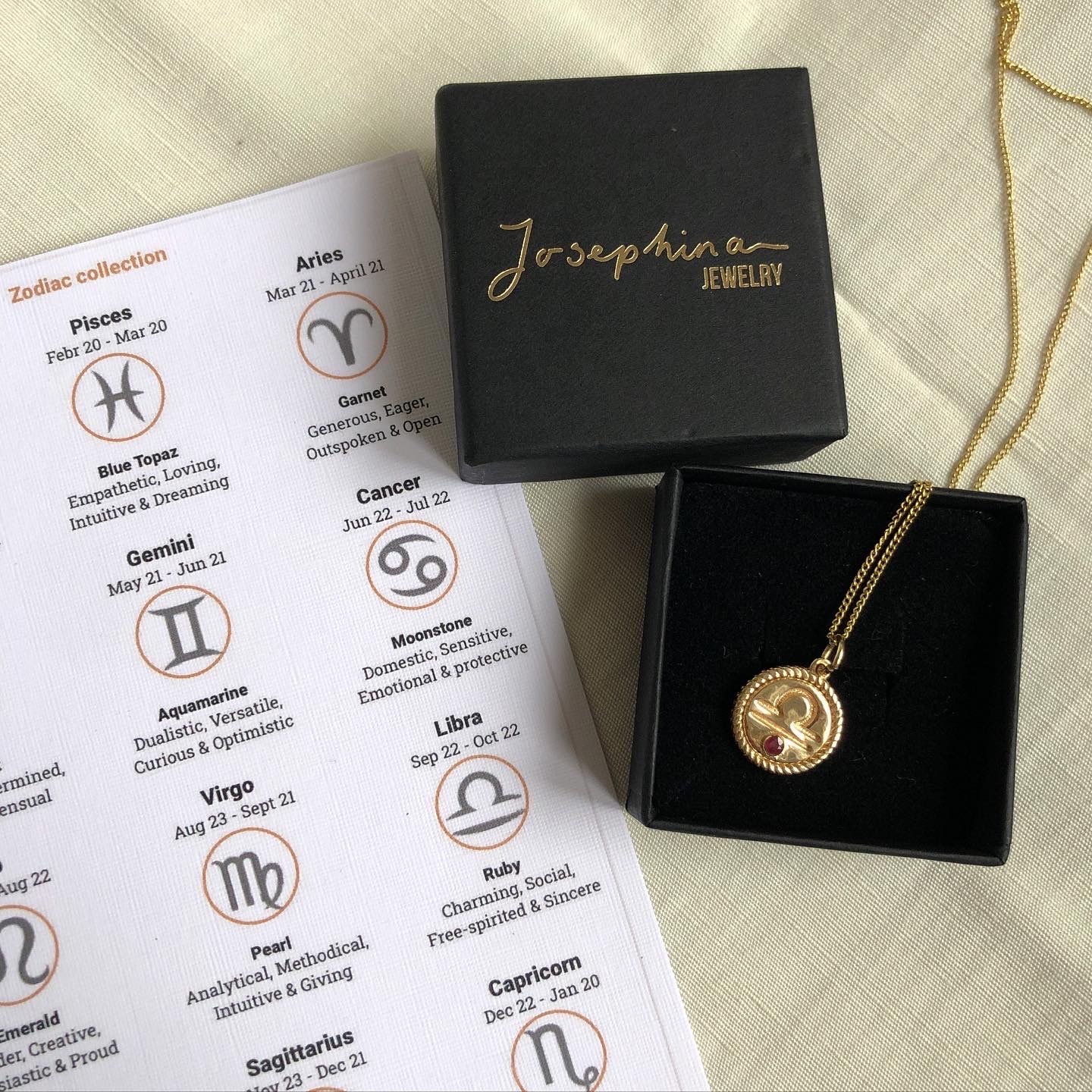 What is a Zodiac Constellation?
We will briefly explain what Zodiac constellations stand for. All 12 constellations we know are in the zodiac, also called the zodiac. The zodiac is an imaginary orbit in which the sun, moon and planets move within 1 year. The sun makes a circle in the zodiac and enters a different orbit of the zodiac every month. So the moment the sun enters the orbit of the zodiac and leaves it again is a certain month of the zodiac. Each orbit of the zodiac has its own image and is a constellation. They started at Aries (Aries) the moment the sun hits the spring 21 March. On our necklaces you will find the constellation images of the zodiac (Zodiac).
What does my zodiac sign mean?
Aquarius (Aquarius) - January 21 to February 19
Aquarius zodiac signs: adventurous, gentle, innovative & dreamy.


Pisces (Pisces) - February 20 to March 20
Pisces Zodiac Characteristics: Empathetic, Loved, Intuitive, Dreamy


Aries (Aries) - March 21 to April 21
Aries Zodiac Sign Characteristics: Generous, Enthusiastic, Outspoken & Outspoken


Taurus (Taurus) - April 22 to May 20
Taurus Zodiac Sign Traits: Possessive, Determined, Practical & Sensual


Gemini (Gemini) - May 21 to June 21
Gemini Zodiac Sign Characteristics: Dualistic, Versatile, Curious & Optimistic


Cancer (Cancer) - June 22 to July 22
Cancer Zodiac Sign Characteristics: Domestic, Sensitive, Emotional & Protective


Leo (Leo) - July 23 to August 22
Leo Zodiac Sign Characteristics: Leader, Creative, Enthusiastic & Proud


Virgo (Virgo) - August 23 to September 21
Virgo Zodiac Characteristics: Dualistic, Versatile, Curious & Optimistic


Libra (Libra) - September 22 to October 22
Libra Zodiac Characteristics: Charming, Social, Free-spirited & Sincere


Scorpio (Scorpio) - October 23 to November 22
Scorpio Zodiac Characteristics: Mysterious, Passionate, Intense & Quirky


Sagittarius (Sagittarius) - November 23 to December 21
Sagittarius Zodiac Sign Characteristics: Optimistic, Curious, Independent & Honest


Capricorn (Capricorn) - December 22 to January 20
Capricorn Zodiac Sign Traits: Ambitious, Conscientious, Trustworthy & Patient

How do I wear the zodiac necklace?
The constellation necklace is a must have. If we follow the trend of personalizing your jewelry, you will come across birthstone jewelry and zodiac necklaces. Let's combine these in one necklace: a charm with a zodiac sign and a small birthstone. Choose a zodiac necklace that matches your zodiac sign or someone you hold dear.

The zodiac necklaces are available in both gold and silver. The zodiac necklaces are 42 centimeters long and have a 5 centimeter extension cord. This is ideal for layering the necklace with your other necklaces! Wear the necklace in combination with a shorter necklace or a choker. Our Jade necklace for example is perfect to combine with a zodiac necklace. The deep green Jade color looks great with the zodiac necklaces. Or Mix & Match with one of our other gemstone charm necklaces.
We are of course curious how you style our zodiac necklace. Don't forget to tag us in your photos on Instagram...