The signet ring is back! In the new summer collection of Josephina Jewelry you will find a number of signet rings with gemstones. Combine a signet ring with your other rings and create the perfect ring party!
Signet ring with gemstone
What exactly is a signet ring? A signet ring is originally a ring with a flat surface with a print on it. The imprint can be an engraving in the metal or an imprint in a stone. The imprint is often a family coat of arms and the ring is traditionally passed down in families. Mostly noble families have this tradition where the ring lasts for generations.
We were inspired by traditional signet rings and made our own variant with gemstones. At Josephina Jewelry we love gemstones and that's why we've designed a number of different types of signet rings. We have placed a flat gemstone on the flat side of the signet ring. We have both gold and silver signet rings with precious stones. In the new collection you will find signet rings with Pearl, Moonstone & Malachite. Choose a gemstone that suits you or because you like it!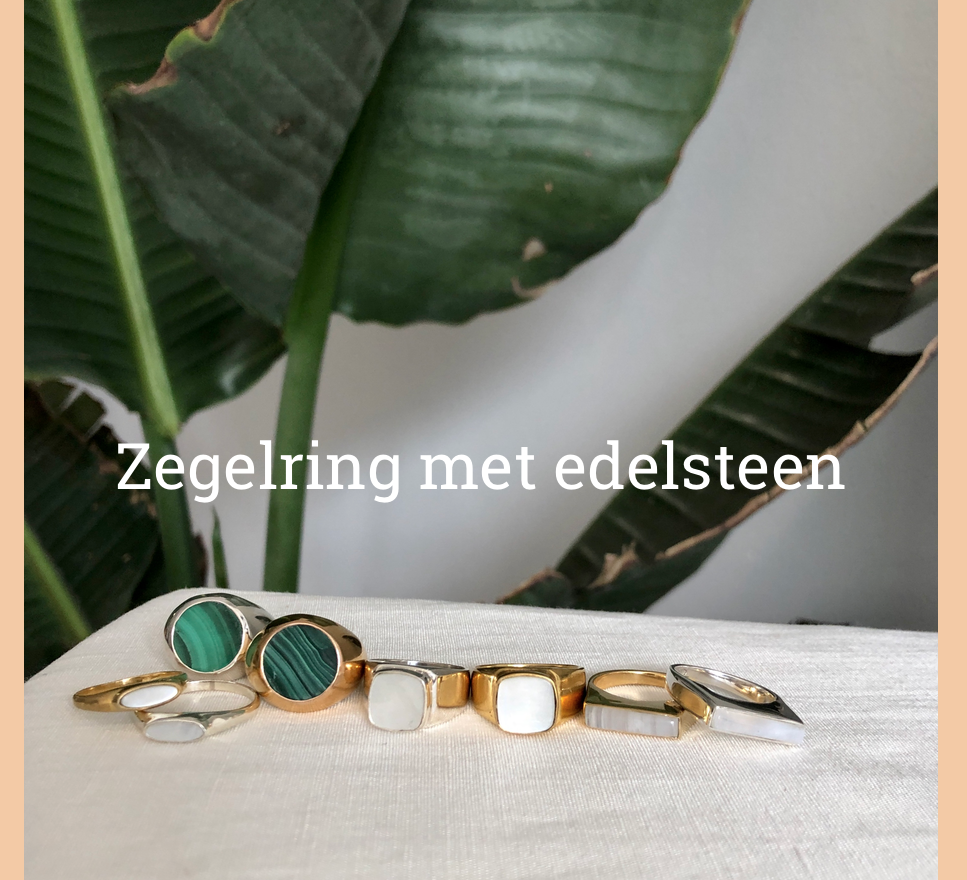 Style your ring party
How do you wear a signet ring? We believe that you can never wear enough rings, so no combination is too crazy for us! We will give you some styling tips on how to best combine signet rings with other rings. Signet rings are traditionally worn on the ring finger or little finger, but we also wear the ring on the middle and index fingers. Just what you like best!
First of all, choose a signet ring that suits you. Here you will find an overview of all signet rings.
1. STATEMENT LOOK
You love coarser rings with a larger stone and like to make a statement look with chunky items. Then go for the Signet Malachite ring or the Mother of Pearl Signet ring . You can wear this chunky ring alone or combine it with other rings with or without a gemstone. This look is perfect with jeans, cool lace-ups and a basic T-shirt.
2. MINIMAL LOOK
You like subtle minimalist rings and like to combine them with other basics. We designed the subtle signet rings for this look! Take the Tiny Signet ring or Moonstone Signet ring . These can be combined well with other minimalist rings. They are perfect with your every day look, but can also be worn well during a night out with a little black dress.
Check out some looks below if you like gold rings!

Are you more of a fan of silver jewelry? Then here are some looks with silver signet rings.

Do you want personal styling advice? Then you can always email us or send us a DM via Instagram. Are you looking for more ringspiration? Then visit our Instagram page for endless inspiration!
Moreover, we are curious how you wear our jewelry! So don't forget to tag Josephina Jewelry on Instagram.