Are you also cleaning up during the corona stayhome period? Then we are exactly at the right time with the launch of our new collection of glass containers ! Due to success, the glass containers are back in several models! We have the glass organizers in black and gold. They are completely handmade and perfect for storing jewelry and small accessories.
Glass boxes for jewelery & interior
What can you do with glass boxes? The possibilities are endless and we'll give you some inspiration. You can use the glass boxes as a practical solution for storing jewelry or other items in your bedroom or wardrobe. You can also use the glass boxes as an eye-catcher in your interior and decorate your home with it. For example, you can fill the glass box as a display with dried flowers, small plants or candles. In addition, the glass boxes can also be used perfectly as a display cabinet for important items. The glass boxes can be found on our website in the interior category. Here you will also find other storage for jewelry such as a necklace display and earrings display .
Glass boxes as storage for your jewelry?
Did you know that your jewelry does not discolour as quickly when you store it in a glass box? When you use a glass box as a jewelry box, you ensure that your jewelry does not discolor so quickly. Do not place the glass box in the sun and make sure you keep the box closed. When you seal jewelry airtight from the sun, jewelry will not oxidize and they will stay beautiful longer! Read all tips about caring for your jewelry .
The glass box is practical & stylish!
Choose a glass box that matches your decor and upgrade your make-up table, bedroom or living room. Are you someone who likes golden details? Then choose a golden glass box. Do you prefer neutral tones? Then go for a black glass box.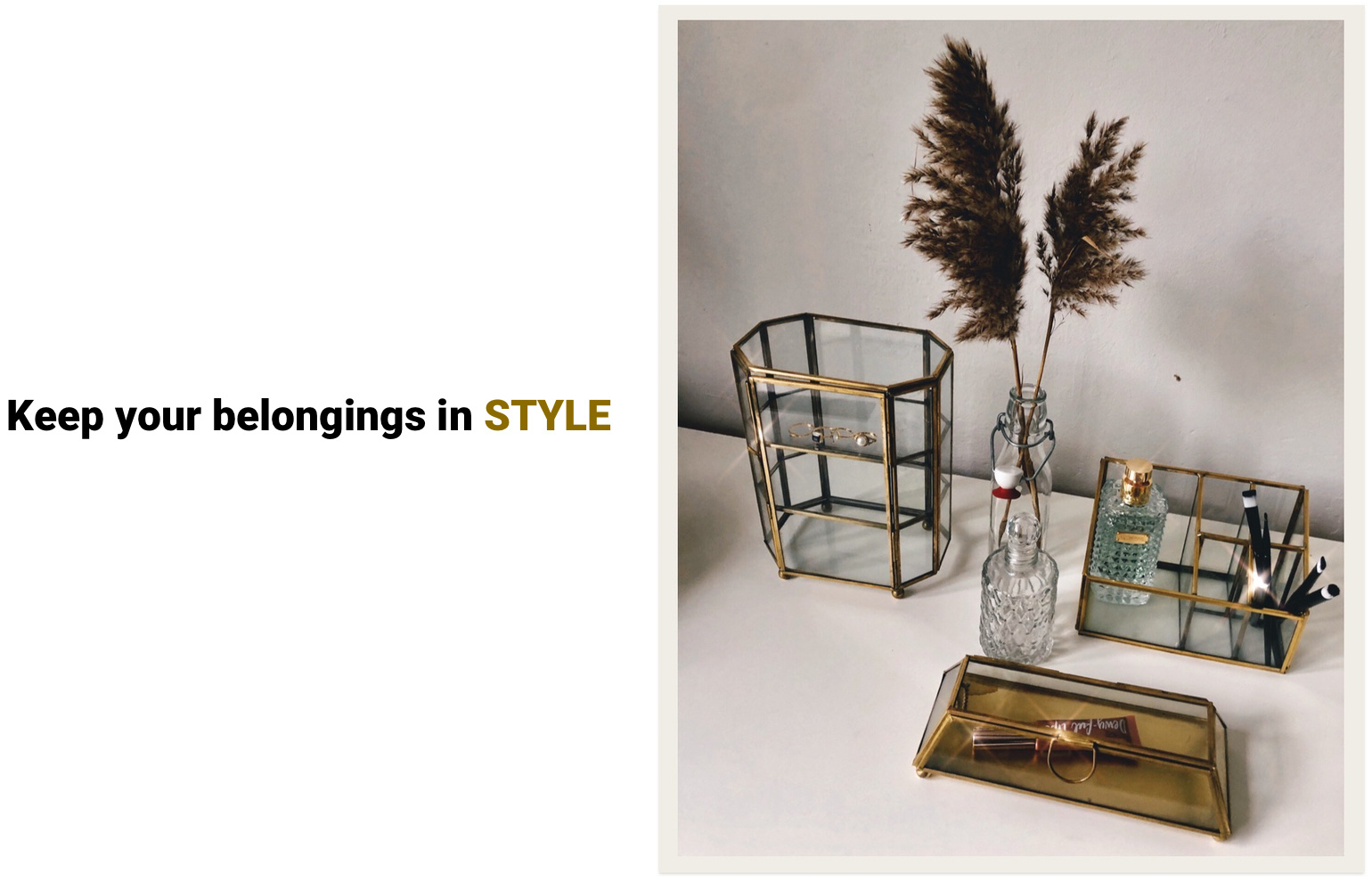 What can I store a glass box?
We recommend the following:
1. Make-up, perfume and other toiletries, take our glass organizer . It is also suitable for storing pens and office items!
2. For jewelry, the storey glass box is perfect.
3. It is best to use a rectangular glass box for dried flowers, candles and other small accessories.
View the complete range of our jewelry organizers here .
Need Glass Box inspiration?
Take a look at our Instagram page for daily inspiration! Here you will find inspiration photos of both gold boxes and black glass boxes in combination with our jewelry!

We are curious what you use our glass containers for! Inspire us and tag @josephinajewelry or #josephinajewelry.